Band Elections 2016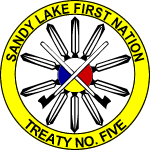 This is to inform Sandy Lake First Nation band members that the 2016 General Band Election is in process.
Voting will be on Thursday, March 31, 2016 from 8 am to 6 pm.
Candidates are running for the offices of Chief, Deputy Chief and Councillors.
Names of candidates are available on the Sandy Lake First Nation website or can be faxed to you if you call the band office at 807-774-3421.
If you have any further questions or comments you may contact co-chairs:
Nikki Kakekagumick at 807-774-1117 or
Florence Ballantyne at 807-774-4491
Toll free number valid only on Mar. 31 for out-of-town band members 1-866-450-8399.
IMPORTANT DATES
Feb. 4
6 to 9 pm
Feb. 24
6 to 9 pm
Mar. 22
10 am
Mar. 31
8 am to 6 pm
General Meeting
Nomination Meeting
Candidate Speeches
General Band Election
High school gymnasium
High school gymnasium
On-air broadcast at radio station
SLCDS board room
CANDIDATES
| | | |
| --- | --- | --- |
| Chief | Deputy Chief | Councillors |
| Bart Meekis | Robert Kakegamic | Fabian Crowe |
| Wade Roseborough | Harry Meekis | John McKay |
| Rusty Fiddler | Christina Meekis | Joe Kakegamic |
| Roderick Fiddler | Clarence Sonny Manoakeesic | Apin Kakegamic |
| Troy Kakepetum | | Dennis Kakegamic |
| | | Wayne Kakepetum |
| | | Allan Rae |
| | | Russell Kakepetum |
| | | Michael Kakegamic |
| | | Yvonne Fiddler-Kakekagumick |
| | | Jackie Rae |
| | | Ida Anishinabie |
| | | Eddie Kakepetum |
| | | Tinia Noon |
| | | Peter Nash Crowe |
| | | Ringo Terrance Meekis |
| | | Michelle Fiddler |
| | | Ozwald Kakekapetum |
| | | Clavis Meekis |
| | | Charlie Linklater |
ELECTION COMMITTEE
Florence Ballantyne, Co-chair
Nikki Kakekagumick, Co-chair
Nora Jane Meekis
Valarie Fiddler
Lisa Meekis
Monias Fiddler
Jimmy Kakegamic
Sam Fiddler
Annette Rae